Follow us!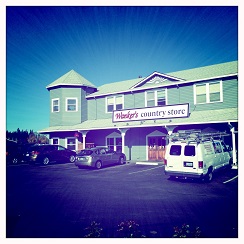 Welcome to Wanker's!

About Us
Wanker's Country Store is a family owned and run country store. We stock a wide range of everyday convenience items and goods - and many speciality items too such as great wines (including local Oregonian wineries) and brand name cigars.
Hungry for something now? Our deli has a delicious selection of hot and cold food options.
Or maybe you just want to grab a hot cup'o'joe on the way to work?
Please come and visit us! We love visitors at Wanker's!

Store Hours & Contact
Monday to Friday: 5am to 11pm
Saturday: 6am to 11pm
Sunday: 7am to 10pm
Telephone: (503) 638-0606
Email:
wankerscountrystore@yahoo.com
What's available?
A small sample of what we offer!
Espresso- by illy
Fresh Sandwiches- made to order
Fresh donuts- delivered daily
Hot Food- see photos!
Fine Cigars- huge selection, see photos!
Premium Wines- large selection in the Wankers Wine Cave
Beer
Convenience Items
Classic Wankers T-Shirts
Address
We're located at Wanker's Corner in Oregon.

19995 SW Stafford Road (at the intersection with Borland Rd)
West Linn, OR 97068
United States of America
View Larger Map
Tweets!
Tweets by @WankersStore